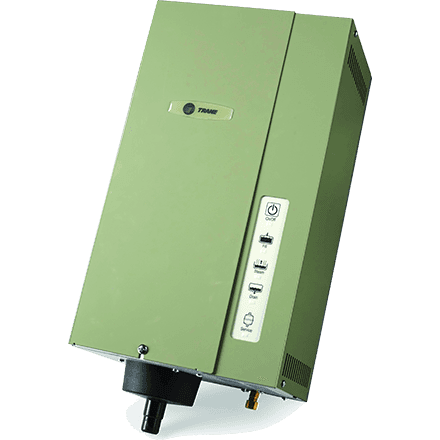 Protect Your Home's Furnishings
This humidifier helps protect wood floors, moldings, and furnishing from harmful dry conditions that can cause damage.
Personalized Setup
The remote mounting capability gives you multiple options for how you install this humidifier.
Humidity on Demand
The Steam Humidifer distributes humidified air throughout your home on its own without needing a prompt from the furnace or heat pump.
Consistent Humidity Control
Attach the humidifier directly to your Trane HVAC system. Enjoy easier maintenance and better humidity control throughout your home than you could with portable alternatives.
Additional Features of the Trane Steam Humidifier
The Trane Steam Humidifier pairs wonderfully with any other Trane heating system to give you more complete temperature and humidity control in your home. Not only is the process of adding a steam humidifier to your HVAC system quick and easy, but it also produces incredible benefits. This system can tell when humidity levels in your home are too low and distributes humidified air whenever it's needed. Protect your health and your home with a Trane Steam Humidifier.